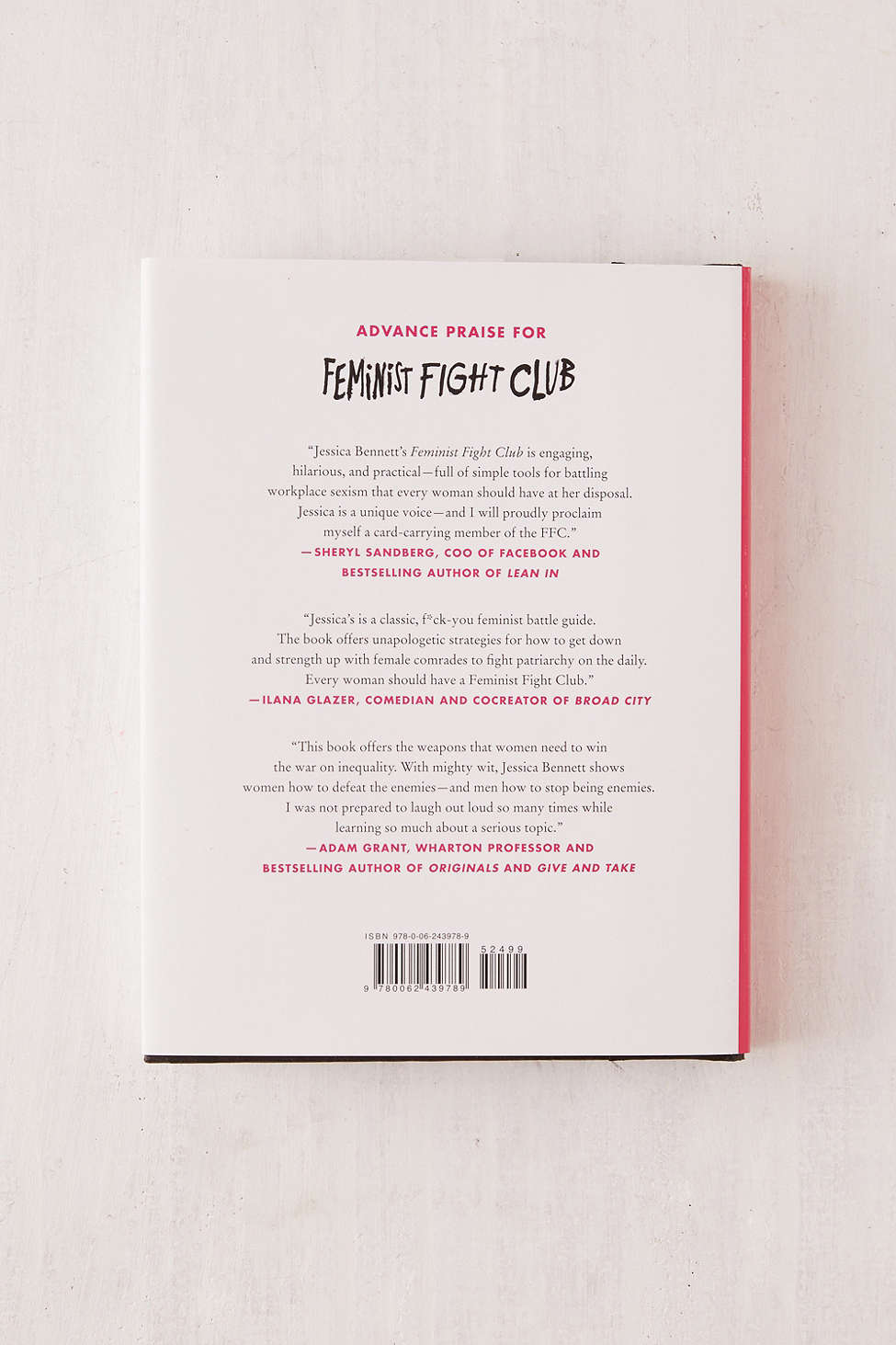 Wall Street Journal bestseller
It was a fight club—but without the fighting and without the men. Every month, the women would gather in a New York apartment to share sexist job frustrations and trade strategies for how to tackle them. For years, the meetings were kept a secret—but the time has come to talk about the club.
In Feminist Fight Club: A Survival Manual for a Sexist Workplace (HarperCollins) journalist Jessica Bennett blends the personal story of her real-life office fight club with a studied assessment of the gender gap that continues to plague the American workplace and beyond. With equal measures wit and rigor, Bennett provides the tactical strategies—and camaraderie—that every woman needs to fight back, as well as tools for the men who support the cause.
Now Out in Paperback!
International (Coming soon to Germany, Brazil, Italy, South Korea, Japan & Spain)
Praise for Feminist Fight Club
"Engaging, hilarious and practical — full of simple tools that every woman should have at her disposal."
—Sheryl Sandberg, #1 New York Times bestselling author of Lean In and Option B
"The work bible every young woman starting her career needs." —London Observer
"A classic, f*ck-you feminist battle guide, full of unapologetic strategies for how to fight patriarchy on the daily."
—Ilana Glazer, Comedian and Creator, Broad City
"Ms. Bennett has performed a huge service not just to [her] audience but to the businesses they will be joining." —The New York Times
"With mighty wit, Bennett shows women how to defeat the enemies—and men how to stop being them."
—Adam Grant, Professor of Organizational Psychology at Wharton School of Business
and New York Times bestselling author of Originals and Give and Take
"Feisty, smart and well-researched." —LA Review of Books
"Bennett shares myriad practical tools and case examples that will expand every woman's repertoire.
She weaves in humor in just the right places. Feminist Fight Club will help you do more than survive. You will thrive."
—Jennifer B. Kahnweiler, PhD, bestselling author of The Introverted Leader and Quiet Influence
"A worthy addition to the library of any young female or male coworker who wants to help." —Fortune
"Funny and fresh…one of those books that every person, not just every woman, should read." —Glamour
"When I wasn't laughing out loud, nodding vigorously, or thinking 'right on!' in this wonderful, sadly hilarious, and energetically on-point book,
I honestly had to put it down and take some deep breaths. Looking back, I wish I'd had a feminist fight club of my own."
—Brigit Schulte, journalist and New York Times bestselling author of Overwhelmed
"I'll be buying this for any young woman I know." —Sunday Times